---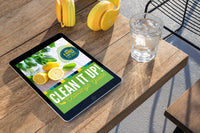 Sale
This 5 Day Challenge Will Help You clean up your body, mind & environment.
👋🙅 🚫 READY TO SAY GOODBYE TO ALL THE NEGATIVE AND TOXIC...
🍔 FOOD

💭 THOUGHTS
🧪 CHEMICALS
🚿 CLEANING PRODUCTS
and start living the life you've always wanted?

Now you can with our 5-Day Clean It Up Challenge that will show you exactly how to clean up what goes into, on, around, and through your body. 

This is not a diet ... this is an upgrade in your health and wellness!!!

You will get rid of toxic compounds that are making you sick and replace them with foods, products, and environmental changes that support your health instead of hurting it.

I've already started on this journey myself so I know how much better I feel when I eat healthy food and use natural body care products.